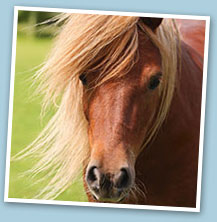 Monthly diary — August
Lucinda Green
"I took Bill to Barbury for the Novice and - I never thought I'd say this – he no longer finds this level a challenge.
He just keeps improving and very nearly won, doing his best in all three phases. It was one of those exciting events where the scores kept being given out - we led for ages before being pipped into third.
"Lissa and Crackberry had the best showjumping I have seen in a long time but the same brakes as used there - a double bridle - failed cross-country. Also, as they headed round the course, their saddle slipped further and further back. I don't like breast plates as I feel they can impede the horse's jump but we definitely need to find something.
As for improving the brakes, it's a case of trial and error. Crackberry is so enthusiastic and a bit cocky, but sensitive and a little nervous – we will have to experiment but I think Lissa will always be on the edge of control. It will be more down to the understanding they reach than dominating Crackberry – too much control often sends this type of horse beserk. Rather than imposing our will, we need to find ways to influence him.
"Barbury has quickly become a top shelf event, running over four days with a 2* and 3* as well as a whole day of novice competition – you feel honoured to ride there. The going is really good and the course magnificent, with fences that look more
frightening than some of them really are. It is tightly run without being officious, resulting in a great atmosphere. It is the way to go."