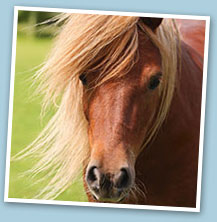 Monthly diary — December
Lucinda Green
For me, it has been a mixed year - Bill has done extremely well and next season we hope to aim for a CCI**, while my Petplan clinics have continued to go from strength to strength. Lissa's hopes and dreams, however, were shattered after saying farewell to Willie (
see Nov diary
). What her next step will be I do not know.
As for eventing generally, the British team have learned plenty of lessons since Hong Kong. There they weren't placed as high as they had hoped due to not being fast enough in cross country. By Fontainebleau, they had really upped their personal bests and their self-imposed cross-country mantra of 'look ugly, just get the job done' paid big dividends. Their determination was fantastic. Hopefully we are now set to break our biannual cycle of success at the Europeans followed by a less golden performance at WEG or the Olympics.
I am still concerned for eventing though, and for riding in general. Money is becoming ever more important and now, while you might make it into the big league with one horse and bags of talent and dedication, it is very difficult to stay there. The pressures on riders to deliver results are enormous, leading to much more changing of owner allegiance. Riders are finding they need to keep stables of 20-30 horses going, even though the returns are nothing like that of racing. It is very tough.
Also there is a trend towards people entering the sport without the foundations of all-round riding, but being 'taught riders'. This can be seen across the horse world, as access to the countryside is lost and health and safety concerns bite ever harder. Our upcoming riders are as likely to have only learned to ride on level, raked surfaces, on 'safe' mounts and kitted up with protective gear.
How can riders or horses learn to look after themselves if this is their practice ground? The generation who can remember learning to ride by needing to stay on and sharing adventures with their pony without worry of what is 'correct', will soon be lost.
We need to accept that riding can be risky, but it's much more dangerous if you haven't learnt to cope with real problems and your horse hasn't had the chance to develop a leg at each corner."