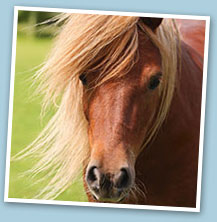 Monthly diary — July
Lucinda Green
Part of June has been spent in the US teaching XC clinics – when I think back to when I first began over 20 years ago, it is amazing just how far the riding standard has improved.
All that time watching horses has also continued to teach me that they really can do anything, with practice. They are so clever with their footwork when given the chance to work it out – forget set strides and instead work them over all sorts of differing distances and lines so long as the fences are small.
All in all, the trip was great even with the added excitement of a missed flight, lost luggage and my first tornado!
Back in the UK, Bill has been cared for by Sarah Neville who has done a great job. He is looking the fittest and best I have ever seen him – he's really coming together. He is still on oats, chaff and vitamins and is stabled more than I would like, to keep his weight in check.
Whether his healthy physique is due to him no longer being fed things he's allergic to (see June diary) or because he's keeping a good weight with regular exercise, we'll have to wait and see.
We're off to Barbury next, a course we both love, but I've kept him in the Intermediate Novice. I felt it would be too much to step up to the CIC2* with me having been away so much – he is a horse who thrives on practice and repetition.
So we'll have fun going round the course we've done twice before which should be well within his scope – cue a run out…