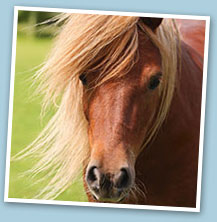 Monthly diary — June
Lucinda Green
As anticipated, talk in the US was very much of eventing safety, fuelled further by another accident at Rolex Kentucky, resulting in the death of a horse and very nearly the rider.
I am convinced many problems stem from the shift in balance to dressage from cross-country. The scoring system gives dressage the most pull so horses are drilled for this, instead of growing their ability to think and react for themselves. The quality of the cross-country must be maintained, not reduced, so people realise they have to step up to the mark.
Back home Badminton delivered a stunning course — the best in 20 years. It asked many questions which several experienced riders failed to answer while a number of the up-and-comings rode superbly.
We then announced the team for the Beijing Olympics. Three members picked themselves while the final two places were a hard call, but I think we have great mix.
Cry Freedom has returned home as Harry Meade feels he has improved him as much as he can. CF looks fabulous and I took him to an Open Intermediate where he went very well. Bill continues to be a star having gained another double clear and a point at Chatsworth. He tripped over the second fence and then jumped the course like a jaguar.
Bill will now have a holiday while CF has a short break until I decide on his next step.