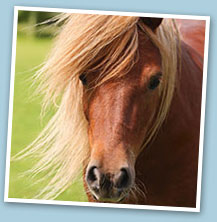 Monthly diary — October
Lucinda Green
The better luck I'd been hoping for did indeed come at Blair Castle — after I'd dealt with my car, towing the horse trailer with two onboard and all the gear, breaking down on the way there.
Cry Freedom finished ninth after a breakthrough in the showjumping, thanks to Yogi Breisner. He helped us warm up, making me jump the biggest fence I've ever faced on Cry Freedom. On the second approach, I expected him to say push on but instead he said come slower, explaining that horses sometimes need reminding how to use themselves on the last day of an event. CF did a super clear leaving me amazed how three practice fences got the message across.
Then it was Burghley, which was wonderful, with a big course. Next was Blenheim, with a horse-friendly adequately difficult XC. Then on to Pratoni for the Europeans. At first look the course seemed easy, but it turned out to be an old-fashioned challenge which unstuck some experienced combinations. I am really proud of our team — they pulled brilliance out of the hat. It definitely paid off to fly the horses out to Rome — they looked the fittest horses there.
Back home, Bill had two weeks off after catching an ankle in electric fencing the cows pulled down. After his break he turned green again and when back under saddle, bucked off my neighbour Judy, who cares for him.
Poor Judy is very sore with suspected broken ribs. I've only ridden him twice since returning from Rome, and we are off to a Pre novice, so I do hope he will redeem himself there.