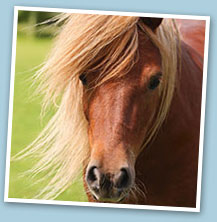 Monthly diary — October
Lucinda Green
Well, we made Highclere, admittedly with me contemplating selling Bill as he simply doesn't seem to have the pace for eventing. It was his biggest challenge yet and he went faster and jumped bigger than ever before, so I came away thinking that, although he'll never be speedy, he does keep improving and maybe there's more to come - after all Burghley winner Lenamore, a similar stamp of part Irish Draught horse, only learned to gallop when he was ten. Thus Bill and I are now going to a steeplechase trainer every four days to gallop with matched company.
Next I headed to Burghley, which was spectacular over a very good course - challenging but not too punishing. Then onto Blenheim to do course walks with title sponsors Fidelity and some Petplan customers. As a new sponsor of Blenheim, it was interesting to talk to Fidelity's guests and to learn how unclearly eventing is put across to the wider audience. They asked whether a different horse is used for each phase, and explained how they'd never realised what a great day out eventing offers, as they'd thought you'd have to go for three whole days which they don't have spare - valuable comments which need addressing to ensure the sport's future. As for the course, it was beautiful but lacked variety and opportunities for learning, but it did show how few combinations can really run and jump in balance, without resorting to taking a pull and seeing a stride.
Finally the month ended with Bill and I competing at Gatcombe. He was rather flower-pot spooky in the big CIC 2* dressage arena. However his showjumping was wonderful - having stopped to look at the fence two, before clearing the 4ft geometric planks from a single walk stride... Cross country, he answered all the questions but was still slow,
despite doing his best.