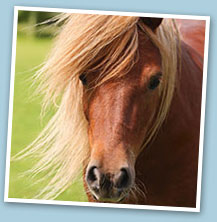 Monthly diary — February
Lucinda Green
As we arrived in Kenya the ongoing rain stopped and two fabulous weeks began. Before heading into the bush, I visited a podiatrist in Nairobi who worked wonders on my injured foot. I walked in lame and came out hunting sound.
Both safari groups I headed up were lovely (for the second I was joined by daughter Lissa, son Freddie and his girlfriend) and the horses were high quality polo ponies or ex-racehorses. The game was incredible and prolific – we even saw the elusive leopard. The scenery was breathtaking and the elephants had been busy which meant plenty of jumping opportunities for us. We ended up inventing a new one too – jumping the breakfast table on the last morning of each group, although I must confess to leaving four hoofprints on the tablecloth.
We were booked to fly home together but Lissa suddenly became ill on the final day. We didn't realise the seriousness initially but she ended up in hospital on a drip to battle an amoebic bacterial infection. I stayed an extra 24 hours and happy she was greatly improved, left her in the care of a good friend before flying home for a quick turnaround before my scheduled trip Down Under.
At least I could deal with the paperwork of Lissa's yard move that was planned for our immediate return from Africa. Fortunately, we have found Fleur to help Lissa with the horses and be stand-in mother, or I would be panicking. Lissa returned two days later, better but not great. When up to it, Fleur will be there to help her with the move even though I'm not.
Coming soon: Tap into Lucinda's cross-country expertise in Petplan Equine's new
exclusive series starting in April…