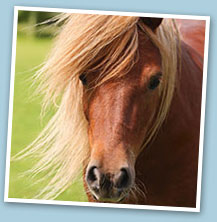 Monthly diary — October
Lucinda Green
The Europeans in Luhmühlen provided a real test of horsemanship – as they should. The track was huge and caused just the right amount of trouble but the Germans were on fire.
It's probably just as well the Brits had a few blips as we'd have struggled to beat them. Missing the European medals is probably no bad thing – traditionally when we do well, we do badly at the Olympics …
Burghley, too, was a challenging track but Blenheim, despite the beautiful course and going, lacked questions. It was, however, good to see Piggy back at the top.
At home Bill and CF enjoyed a month off, before heading in new directions. I've decided CF needs to stick to the cross-country he loves, and avoid showjumping and dressage, so I'm looking for the right person to take him team-chasing. Meanwhile Bill is with my friend Jo, to go cubbing – he's already missed one outing having refused to be caught. His departure is also giving me room to think about his future. As much as I adore him, I've always said I would part with him when we've gone as far as we can. Two double clears at 2* this season could be our pinnacle. Should I decide to sell, it will be easier without him looking lovingly over the fence.
This week, I finally climbed back on board for the first time since breaking my wrist (see Sept diary). The plaster and stitches have gone but so has my strength. I popped a tiger trap on a friend's horse without a problem but trying to pull up afterwards proved interesting. I hope my riding fitness will come back as quickly as it seems to have gone.