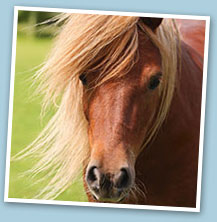 Monthly diary — November
Lucinda Green
I was privileged to be at the World Equestrian Games in Kentucky and witness some superlative displays of riding. Our team, riders and support staff, worked in unison to great effect, producing fluid and foot perfect jumping rounds. The courage of a well-criticised selection committee is admirable - the results are there for all to see. Even Pippa, who regular chastises herself (that's why she's a champion) relaxed after the showjumping and admitted that nine-year-old Redesigned had gone fabulously. As for the cross-country, I hope it heralds a new trend – many big galloping fences and forward going combinations, as well as the tricky questions.
While I was in the US, Sarah Curtis once again looked after Bill brilliantly. Though he lives out, she kept him fit for Intermediate level and took him to work with the racehorses every four days – no mean feat as it's a three-hour round trip and Bill regularly decides he won't be caught. He thinks it's hysterical to calmly walk off, just out of reach. Working with steeplechase trainer Emma Lavelle is definitely paying off - Bill's wind has improved and he seems to be stronger. At our last 2010 Intermediate, Aldon, he was placed 6th.
Then I'm off to South Africa to lead a safari and teach a clinic. Hopefully I'll meet the South African team too. They put in such effort to reach WEG – organising new FEI events to qualify as they had insufficient, dealing with two months quarantine in the tiny Capetown racecourse, plus a further five months in France to acclimatise and prepare. It seems only right that any of us should offer what support we can.