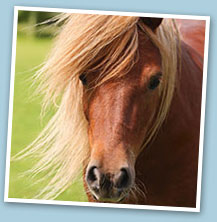 Pony Insurance
Pony insurance is designed to cover the unforeseen incidents that very easily occur. Owning a pony is a big responsibility and it's important to consider the financial implications before purchasing one. This includes considering how you would cope if the pony was involved in an accident, needed veterinary care or if someone was hurt whilst looking after it; this is where pony insurance can help.
What is pony insurance?
Insuring your pony isn't a legal requirement, however it is an important part of responsible ownership. Pony insurance can protect you against the unexpected costs of emergency veterinary treatment and is in the best interests of the general public and of course, your pony.
What will be covered on my pony insurance policy?
Pony insurance policies can be tailored to suit your individual needs, but as a quick summary of a basic policy:

Pony insurance normally covers some benefits as standard but also provides a range of optional benefits. These you can choose depending on whether you want a more comprehensive cover or just a few that are more important to you.
As a standard benefit included in all policies Petplan Equine's pony insurance policy will cover Death and Loss by Theft or Straying.
With our optional veterinary fees cover we can cover your pony for illness and injury until their 25th birthday, providing your pony is insured before their 20th birthday.
Ponies can be insured from 30 days old all the way up to 19 years old which is ideal for native ponies that tend to live longer and more active lives. For ponies older than 19, we can offer you our Veteran plan.
Benefits of Pony Insurance
So what do all these benefits really mean? Knowing what is available to add to your cover is really important to make sure you have adequate cover based on your needs, so read below to find out what is available to you and your pony.
Death and Humane Destruction, Theft and Straying: this is a standard benefit, and will cover up to the determined market value (or the sum insured if lower than the market value) of your pony in the sad event of its loss.
Vet Fees: For most owners this is the first thing that comes to mind when thinking about insuring their pony. When choosing a policy it's important to look for a policy that will offer a high enough benefit level, an excess that you can afford, as well as not having limits on what you can claim for. Unlike some others our vet fees benefit will cover diagnostic investigation as well as the treatment as recommended by your vet.
Third Party Liability: This offers protection if you are found legally responsible for damage or injury your pony has caused to another person or their property. Many pony clubs, livery yards and competitions will specify that you must have the pony insured for this. Make sure the pony insurance policy you choose will cover your pony while it is being handled by your friends and family as well as you.
Permanent Loss of Use: this covers the pony's value should it have an illness or injury resulting in it not being able to carry out the activities it is insured to do. Different policies vary their cover levels, with some specifying that it can only be claimed for a pony that has an illness or injury meaning it's completely retired and cannot be ridden at all. While others offer cover if the pony has to be retired from specific activities but can still be used for something else. Permanent Loss of Use also usually has age restrictions; for our policies the age limits are between 2 and 16 years.
Personal Accident insurance: this covers up to the maximum benefit for the rider or handler in the case of death or serious injury. It also covers up to £1000 towards dental.
Saddlery and Tack cover: this is often a good additional extra; protecting you against the costs of repair or replacing lost, damaged or stolen tack.
Trailer and Horse-Drawn Vehicle insurance: this additional benefit covers the cost of repair or up to the sum insured in the case it is lost stolen or destroyed.
How do I buy a pony insurance policy?
You can get a pony insurance quote or purchase a full policy online, or call 0330 102 1658.